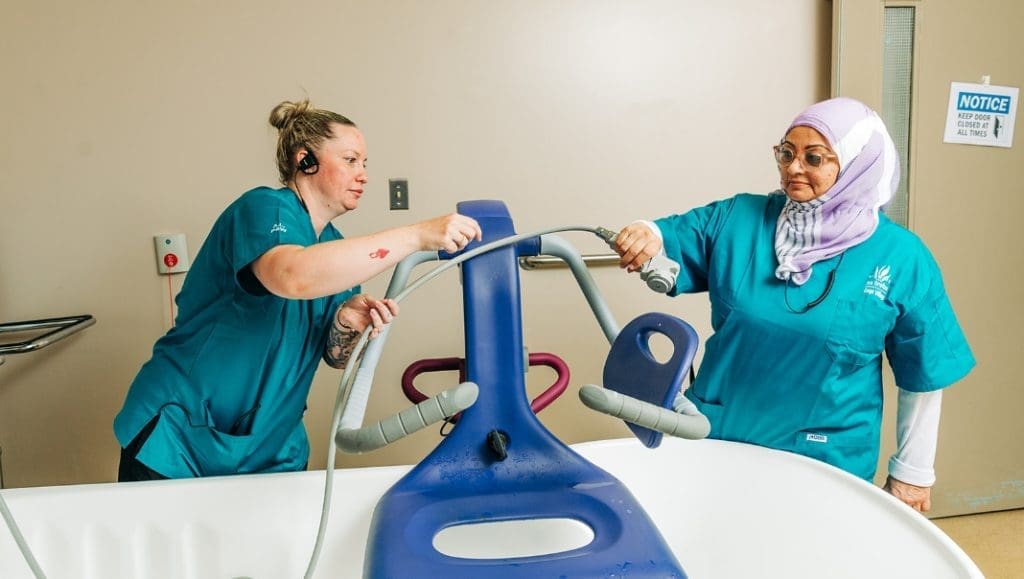 Assisted Living Services
Assisted Living Services are offered at Niagara Ina Grafton Gage Village and staffed with qualified, caring Personal Support Workers (PSWs).  Our staff provide physical assistance to residents to help them carry out daily activities and remain independent and in their own homes for as long as possible.  
All residents living at Niagara Ina Grafton Gage Village in both rented apartments and life lease properties are eligible for this assistance.  
Funding for the Assisted Living Services Program is provided to Niagara Ina Grafton Gage Village by Home and Community Support Services Niagara (formerly known as the LHIN, Local Health Integration Network).
The Assisted Living Program provides non-medical assistance with the activities of daily living and can include assistance with any or all of the following activities:
Personal grooming and hygiene
Bathing or Showering
Dressing and undressing
Toileting
Rising and retiring
Meal Preparation
Escort to/from dining room
Positioning and transferring (no mechanical lifts)
Medication assistance
Some medical procedures as deemed appropriate by professional community health care provider
Emergency Help Call System
All residents on Assisted Living Services can enroll for a 24 hour, 7 day a week Emergency Help Call system.  At Niagara Ina Grafton Gage Village, we are proud to offer SARA Help Call system.  The resident will be provided with a unique to them necklace button. The entire property has been mapped and wired to provide full interior coverage and allow our residents the freedom and peace of mind to know that assistance is a quick push of the button away.  
Your SARA Help Call is connected to our PSW staff and is monitored 24 hours a day, 7 days a week. 
How our Residents Apply for Assisted Living Services: 
Residents can call the Client Coordinator:  905-935-6080, ext. 258 to arrange an in home meeting and assessment. 
ALL INCLUSIVE UNITS
All-inclusive units in our one and two bedroom apartments and Bachelor-style Suites include the full spectrum of our services to allow seniors to continue living independently where possible, for one flat fee.  All-inclusive units include the following:

Rental fee

Assisted Living Services

Full Meal Plan

Housekeeping

Laundry Services

Basic Cable

SARA Help Call Emergency System
How to Apply for All-inclusive Units:  
To make a referral for one of these units, contact Home and Community Support Services Niagara at 905-684-4811.  Wait List May Apply.
Our vision
Our unique senior living community with a variety of housing options and services, offers seniors freedom, independence, spiritual and physical wellbeing, security, and a life full of new experiences.